High-performance computing resources
ICM SB RAS has the following high-performance resources that operate in the mode of collective use (with remote access over a telecommunications network).
Universal cluster x86-x64
The cluster has 400 compute cores, peak performance 14 TFlops (double precision).
The equipment includes:
10 computing modules with 2 Intel Xeon E5-2698 processors (20 cores frequency from 2.2 to 3.6 GHz) and 256 GB of RAM;
control unit — 2 Intel Xeon E5-2450 processors (8 cores, 2.1 GHz frequency) and 24 GB of RAM;
network storage PROMISE Vess R2600iD-64 TB, for the organization of storage of user data;
10GbE communication environment with passive SFP + connections and managed high-performance DXS-3600-32S switch (24 SFP + ports, 960 Gbps communication matrix);
uninterruptible power supply APC SURT15KRMXLI with a capacity of 15 êVA.
Installed software:
Linux operating system
Compilers GNU C/C++ GNU Fortran Intel C/C++ and Intel Fortran
Communication environments-MPI (MPICH1, MPICH2, LAM)
DVM parallel programming system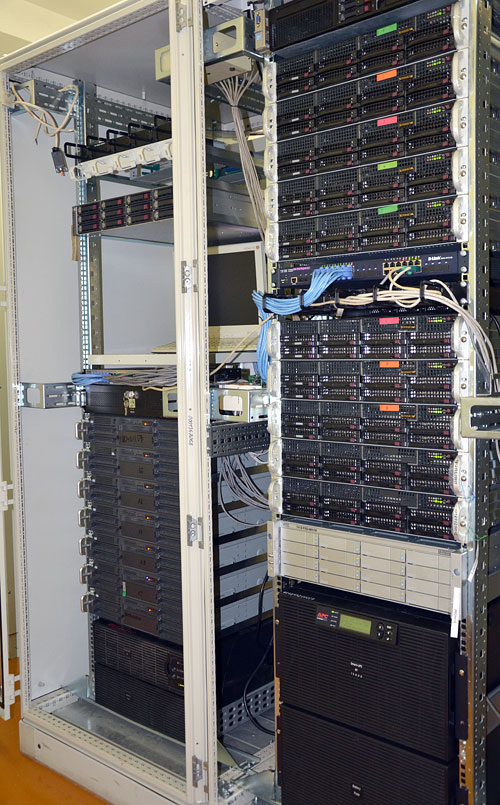 Server with NVIDIA Tesla graphic calculators
Server with GPU graphics processors (8X NVIDIA Tesla C2050) — 8.24 TFlops (single precision). Installed software MathWorks: MATLAB, Simulink and Parallel Computing Toolbox with support for graphical calculations.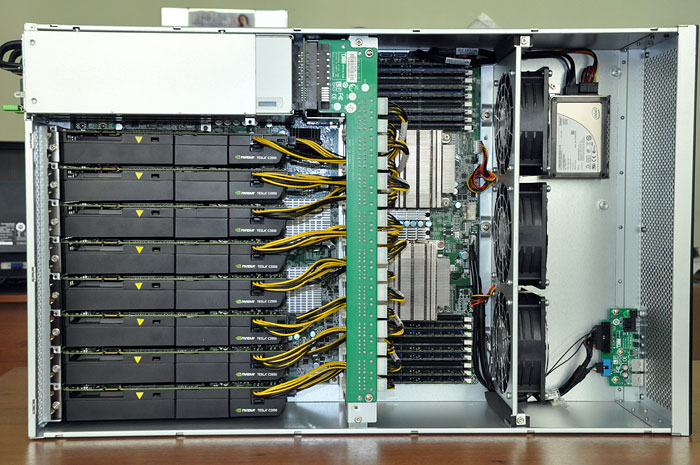 Server with Intel MIC
Computing server with Intel MIC architecture (2x Intel Xeon Phi) — peak performance 2.3 TFlops (double precision). The Intel Cluster Studio XE package is installed.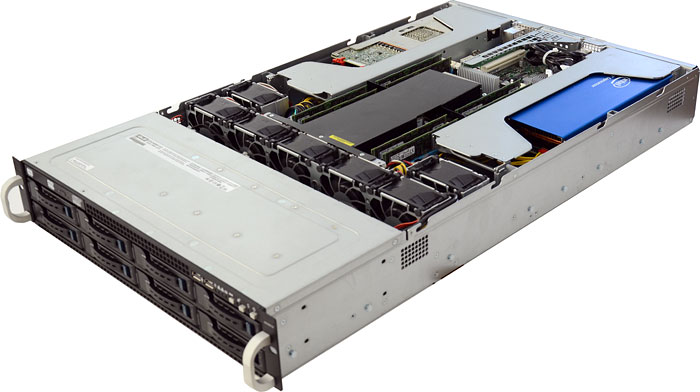 Storage systems
IÑM SB RAS uses in its work several data storage systems (DSS) with a total capacity of more than 150 TB including:
PROMISE Vess R2600iD-64 TB, storage of backup copies of information systems and user data (2017)
Synology DS1813+ — 32 TB, QNAP TS-639 Pro, storage and processing of satellite data (2013)
Synology RackStation RS3412RPxs — 30 TB data for virtualization systems and cloud services (2013)
Synology RackStation RS3412RPxs — 30 TB data storage of computational experiments (2012)
On all computing resources with telecommunication access the statistics of use is conducted, access from a city scientific and educational network at a speed to 1 Gbit/s, and from public networks of 100 Mbit/s is supported.
The graph below shows the load Of the universal cluster of IVM for 2018.